My daughter has not been happy with the adhesive style patches that are applied directly to her skin. She complains that they hurt and when removed they often left her tender skin quite red and irritated. She told me that they make her glasses not comfortable. Since Belle started patching in March 2009, I've been on a mission to find "the best" patch for my little girl. There are quite a few eye patches out there in a range of styles and it can be overwhelming to know which one to purchase. The websites show pictures but it is hard to tell if the patch will fit well, or allow for peeking - most of all if my daughter would even wear it.
When I found the
iPatch
website online, I loved their tagline "
happy patches for little eyes
".
iPatch offers a few different patch styles including "pirate style" and patches meant to go onto eyeglasses. Since Belle wears glasses and detests pirates we went with the glasses style. iPatch was kind enough to send us a few different patches to test out, and share with
Amblyopia Kids
readers.
About iPatch Glasses style patches:
Priced at $7/per patch.
2 styles are available - one has the lens pocket on the outside of the patch, the other on the inside. Exterior pocket style makes the patch slightly less bulky.
Fully occlusive to block peripheral vision
Made to patch either eye. When ordering you can state which eye needs to be patched to avoid any flipped/reversed patterns.
Lightweight with a cotton exterior over a tricot covered padded lining.
Available: 2 sizes. [ Note: currently, the small size patches for glasses are available only on request].
Over 30 different colors/patterns available
Bulk orders are available. Shipping on standard orders priced at $4.95 for 1-6 patches and upward. They use US first class mail for shipping.
Here are our iPatch H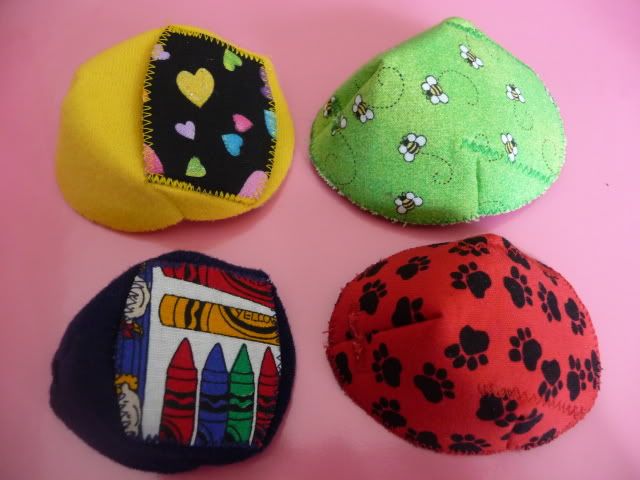 appy Little Patches (glasses style):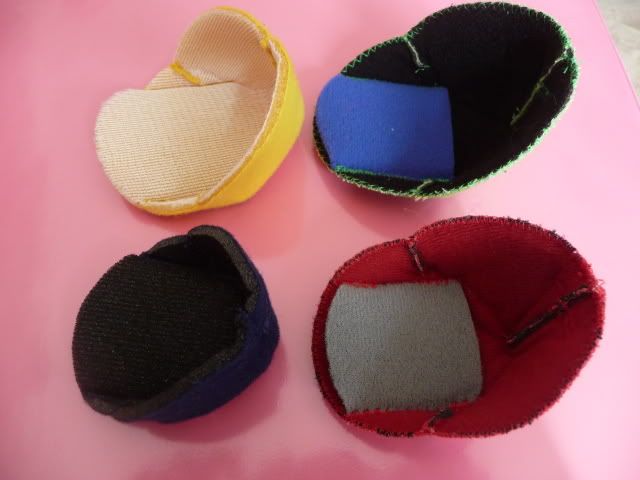 Exterior Yellow patch with hearts

Interior Green patch with bumblebees
Exterior Blue patch with Crayons - size small

Interior Red patch with pawprints - size small
My four year old daughter tried out 4 different patches from iPatch - 2 small and 2 regular/large in the exterior and interior glasses styles so that we could find which size and style patch fit her best.
The yellow(hearts) patch and blue(crayons) patch are exterior style - the glasses slides through the pocket on the outside of the patch. The green(bumblebees) and red(pawprints) patch are interior style -eyeglasses go through a pocket on the inside of the patch. Both style of patches are made with a tricot padding. On the exterior pocket style the outside pocket is cotton fabric. On the interior style patch the entire outside of the patch is covered in the cotton fabric. You'll notice when I flip the patches over that the actual patch is made of a different color. When you order there are options for selecting the patch color. The pattern and color availability is plentiful from mild to wild. What I'm finding with trying out patches is that often the darker colors do a better job at occlusion because they also block out light.
I found it interesting when trying the different size/style patches on how different the fit was from the interior and exterior style patch. Up until this all the patches we'd tried had the pocket on the outside, so since the interior style looks a little bit different I wondered how Belle would feel about it. She didn't seem to care either exterior or interior - all she cares is
"how cute she looks"
and
"not looking ridiculous"
. Both of these styles are attractive and the fun patterns/colors earned her seal of approval.
I found the iPatches to be extremely well constructed. The tricot padding material is soft and will not scratch your lenses up. It is also gentle against Belle's skin and doesn't irritate her. She does complain (with all her patches) that she is getting sweaty on her eyes. Some of this is definitely seasonal as we are now getting into the 80 and 90 degree weather. Handwashing and airdry is the suggested method of washing these.
I really liked how all of these patches had a buttonhole style slit in the side of them that you slide the arm of your glasses through to secure the patch to your glasses. Prior to this most of the patches I'd tried attached to the nosepad vs the side of the frame and these do not attach to the nosepad. The upside is that they can be used on glasses with or without nosepads which is nice since my daughter has a pair of plastic frames that she can't use some of her patches with.
However, because there is no buttonhole to hold these patches to your nosepiece there can be slippage of the patch creating a gap near your child's nose that the patch doesn't cover this can allow for some "peekage" if you have a little one who is determined to evade the patch. When using the glasses style patches it is really important to find a patch that fits well on your child's frames with no peeks! My daughter is a giant peeker is bound and determined to find a way - she is something!
Pictures in her iPatches
:
This is the iPatch Regular (large) size - exterior style with "glitter hearts". She really likes the heart pattern on this one a lot. The sunny yellow color looks nice but the inside of the patch is very light so it doesn't block out light entirely. Because it is quite large it takes up quite a bit of her face and it does move around a little bit. I have caught her peeking out the top and by the nosepiece area. In order to assure "no peeking" with this one, I'll have to use an adhesive patch under it. From the big smile on her face - I think its obvious this patch meets her approval.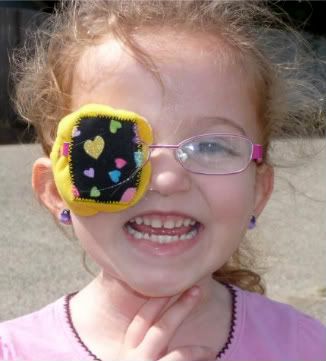 This is the iPatch small size (by request only) exterior style. The patch is navy blue with primary colored crayons on it. It would be suitable for a boy or a girl and particularly reminds me of something "back to school" or "preschool" theme. This size patch is less bulky than the large size and doesn't take up half of her face. When positioned properly on her frames it is fully occlusive even though you can see her glasses lens coming out of the exterior pocket. I also found the Navy blue (black padded interior) does a really great job at blocking light.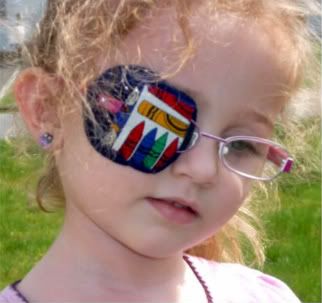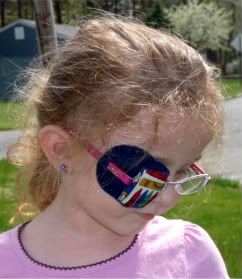 Summary: Both the regular/large and the small size exterior patches fit my daughters glasses that are W:45mm and H: 23.5mm . My observation is that my daughter may be in a spot where she is kind of in-between the 2 sizes. On her face and glasses the large is a little bit big and the small "just" fits. I think the small size patch would be perfect for little kids ( in the "under 4" set).
Now, onto the interior style patches:
This is the Interior Style glasses patch from iPatch in the regular (larger) size. I think that she and I agree this patch is too big and also bulky for her. I like that the inside of this patch is black (the pocket is blue) and it has a totally smooth cotton fabric outside. We'll save this patch for use down the road. Regarding the interior style: Belle gave me a little bit of "lip" about the fact this style of patch covers up the sparkly bows that adorn her glasses temples.
This is the Interior style glasses patch in the small (special order) size - the pattern is "puppy prints".
Out of the 4 iPatches that we tried, this is by far Belle's favorite and the one that also fits her best
. Win/win!
The inside of the patch is a dark burgundy red that does a good job blocking the light. It doesn't slide on her glasses and she is not able to peek. Even though it hides the pretty pattern on the temple of her glasses, she likes the puppy print pattern and the red color, so it makes up for it. Definitely a happy little patch and a happy little kid!
To place an order at iPatch visit:
http://goipatch.com/
Kathy at iPatch is super friendly and a pleasure to deal with. I'd definitely do business with iPatch in the future.