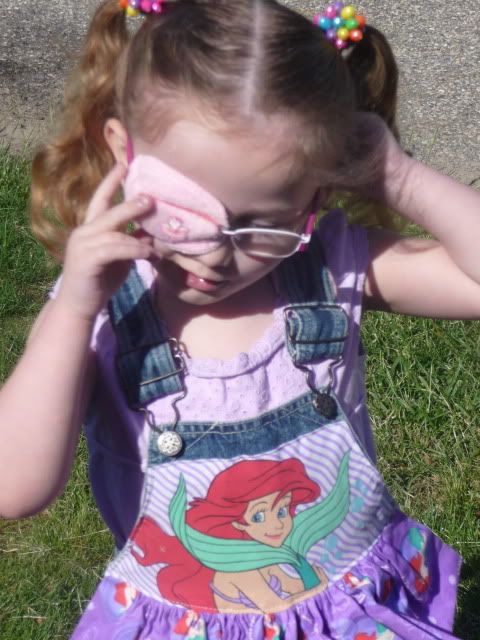 When my daughter was diagnosed with Amblyopia and required wearing an eye patch daily, I started doing a lot of online research for eye patches. What I found was about a dozen or so different makers of re-usable patches for children who wore glasses. But, which one to choose? Since, as I'd suspected from the beginning - my daughter's skin was far too sensitive for adhesive patches - I was thankful for so many other options. I took the plunge and bought a few but found it was a hit or miss on finding a patch that 1) was fully occlusive and 2) my daughter would wear. One of the patches that I was extremely curious about but almost "afraid" of - perhaps intimidated is a better word - is the
Framehuggers
patch.
Unlike most of the cloth patches that slide onto the frame (some with one or two buttonholes to secure in place) - the framehuggers patch is more of a "contraption". I found myself fascinated and intrigued by it, and yes - I balked when I saw that it cost $20 for a single patch. Part of me thought "you've got to be crazy", and another part of me went - "I need to try this patch". That part won out after I contacted the company and shared my story via an e-mail. There is so much to be said for the owner and designer of
Framehuggers
, that my words will not do enough justice. The owner and designer of Framehuggers, Camille Workman, phoned me and we spent nearly an hour chit-chatting and talking about the issues that I was going through with my sweet little girl and the patch battles that seem to crop up on almost a daily basis. I talked to her about my ultimate frustration, my daughter PEEKS and seems to find away to defeat many of cloth patches so much that with many of them I need to double patch her and use a "harsh" adhesive patch underneath and then a cloth patch over the top. She shared with me about her experience with fitting glasses and working in pediatric ophthalmology and how she came up with the Framehuggers patch. The only words I can use to describe her - she is a class-act! Camille even helped me out when I was having problems with my daughter's glasses requiring frequent adjustments. She was able to diagnose the problem across the wires when the "idiots" at the local optical shop were failing me. When I finally got to someone locally who had more experience with fitting children's glasses - they told me exactly what Camille had. If only she was local to me - I wanted to hug her because she was right!
About Framehuggers:
First of all, these are a completely unique dimensional design that "hugs" the glasses frame to create 100% occlusion and will not shift or move.
These are made of a soft and fuzzy anti-peel fleece (or standard fleece for patterns) so it is able to be washed.
Are made completely custom to the measurements of your frames.
Can be used on any type of frame - metal or plastic, with or without a nosepiece.
Comes in a wide range of colors with or without appliques. The applique can be custom or from their gallery. For those who require alternate patching of both eyes, only one framehugger is needed - as it is reversible. She can put an applique on both sides for those who alternate.
FrameHuggers come with a money back guarantee. The patches are $19.99 and shipping is FREE. If you purchase 2 patches you get free shipping and Priority Mail upgrade. If you purchase three patches; you get a 4th patch free and free S&H and free Priority Upgrade.
Made to Order:
Because your Framehuggers are custom made, ordering is a bit more than simply picking out a color and a design. That's the part that I let my daughter be a part of - because if she is wearin
g it, she needs to like it. Not surprisingly she picked out a pale ballet pink color - for the design she told me that she wanted a kitty cat doing ballet. My image immediately jumped to Hello Kitty, but she told me know - she wanted it to be a grey and white kitty (like her favorite plush toy). I found this image - and she loved it. The next part consisted of me taking measurements off of my daughters frame and breaking out a ruler. The site gives clear instructions on how to input the measurements. Even a dummy could do it,
except maybe me
! Yep, I put them in wrong. I always tend to be doing 20 things at once and I put in a bridge measurement instead of a height measurement. But - I also gave Camille the exact model and make of my daughter's frames. When she realized that the dimensions that I gave didn't seem to make sense she did the legwork and got the measurements for my daughter's frame model. I received it in about a week's time - which was impressive considering it had to be custom made and then shipped across the US!
Our Framehugger: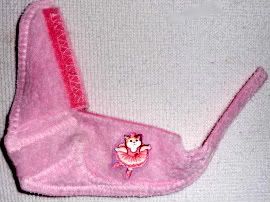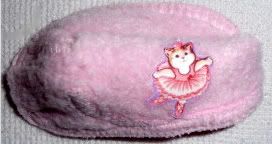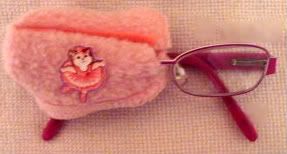 Using Framehuggers:
When I received our Framehugger - I was baffled by how to put it on my daughter's glasses. I wasn't even sure which end went in where and how to secure the velcro straps. I panicked but remembered there was an online tutorial on how to use it. Being that I tend to be more of a visual learner this helped me vs reading the instructions. I admit, I don't always read instructions (when I should!). You really needn't be overwhelmed on how to put on framehuggers! It is quite easy once you have practiced a few times. But, it is very important you are putting it on correctly.
Instructions for us
e can be found on their website.
A video on how to put on Framehuggers:
Once my daughter wore her Framehuggers patch, I was a convert.
This patch is peek-proof.
I know this because Belle always gets fussy immediately after putting on her glasses with the framehuggers. I realize now after a month of using this patch as well as a few others... it is because she truly cannot see out of her eye and there's just no way for her to defeat it. I have also learned that I need to be strong and not give in to her initial complaints because after a few minutes she gets over it and she'll wear it until I say it is time to take it off (or remove her glasses).
Because the framehugger is custom made for my daughter's frames, it fits perfectly. It is not bulky, it doesn't cover up half of her adorable face, and it is a "set it and forget it". Unlike many other patches we have tried it doesn't require constant adjusting each time she removes or puts on her glasses. Should it need to be removed (say for her Phys-Ed class) and put back on, I am confident that when it is put back on it is the same way it was when it got taken off. I did need to show the classroom aide how to remove and put it on correctly since it is a bit trickier to put on that her other patches. This patch also has the advantage that my spirited 4 year old daughter can't quite figure out how to open up the velcro or pull it off of her glasses. She has been known to take off and hide some of her patches in an attempt to get out of patching time. She really doesn't like to wear an eye patch, but is better about it some days moreso than others. I'm glad she hasn't figured out how to take this patch off because it means she'll wear it longer!
Belle loves the pretty pink Framehugger with her ballerina kitty and tells me "it is so soft". I agree, the fleece is a lot softer than the popular felt patches. I know that it is very gentle on the lenses of her glasses and will not damage them (nor her pretty "bling bling" princess frames). I like that it doesn't irritate her tender skin and doesn't make her sweaty. The fabric is soft and breathable, and doesn't "pill". She and I both like the framehugger because it isn't real bulky. There are some patches that my daughter doesn't even want to eat soup, a slice of pizza, or a messy dish of macaroni while she is wearing because she is afraid to get it dirty - this one doesn't even come close to her cheek - let alone her mouth - so that is a big plus. No more excuses that she needs her patch off at mealtime.
I have absolutely nothing negative to say about Framehuggers. Even the initial "sticker shock" that I had about them being $20, is no longer an issue. There is no price you can put on a patch that is absolutely 100 percent occlusive. It is no wonder that Framehuggers are endorsed by an ABOM (American Board of Opticianry Master Certified Optician)
Danielle D. Crull
(author of
Apple Patty Patches
).
To order/contact Framehuggers visit their website at:
http://www.framehuggers.com/
Our Framehuggers Photos: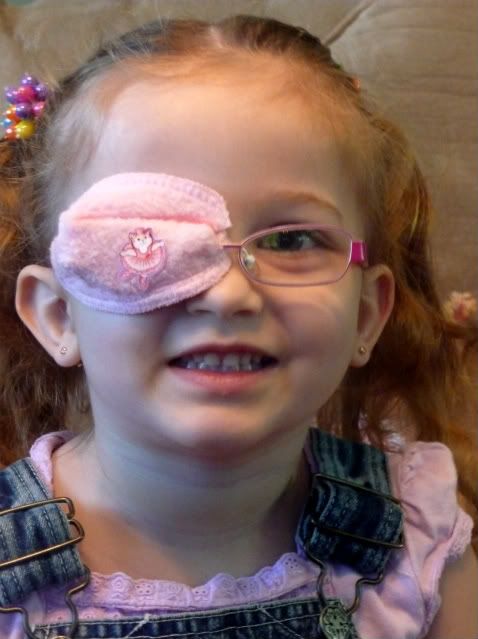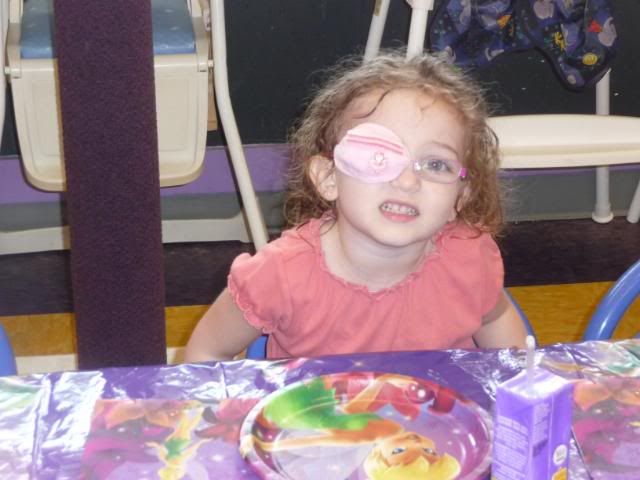 More
Framehuggers Fun