There seems to be a real common thread among parents and family members of children with Amblyopia or other vision issues that require patching: "the quest for the perfect patch".
Anissa's Fun patches
was developed in search of a perfect patch for Anissa. Their tagline is:
Your source for Eye Patches which are fun and comfortable.
I immediately felt a connection reading the story of their granddaughter, Anissa, and the obstacles faced with patching. Including: irritating adhesive, complete occlusion (no peeks!), cost, and also the "fun" factor. This unique patch was developed as a solution to these common issues faced.
Anissa's Fun Eye Patches are made out of a durable foam material and come in a variety of colors, including their signature rainbow patch. Kids can coordinate the patches to their outfits or decorate them with markers or stickers. The patches are washable, reusable, and reversible. Because of this, you can buy less and you can also patch either eye with the same patch - no right or left! They are priced at $5.25 per patch or 4 for $20 - the camo pattern has an additional charge of $0.50 per patch. To use the patch you slide one hole through the glasses armpiece and then the other over the nosepiece. **Because of the design this patch can only be used with glasses that have a nosepads**. Easy to follow
directions including a helpful illustration
is shown here.
Belle received 3 different Anissa's Fun Patches, the signature rainbow patch, a cotton candy looking pastel patch, and the camo patch. She immediately told me that the camo one is too boyish colored so that one is headed to a friend of mine with a boy who patches. Unlike Belle, he is not too outwardly picky about what his patches look like but I am sure he will be secretly thrilled about the camo. Out of the three, the rainbow is her pick because she loves the bright colors.
To introduce her to this new style of patch, I also shared with her their
really cool Activity booklet
featuring coloring pages and other fun activities. The booklet is in the process of being professionally printed, but I've got to tell you version that we got with the print-out pages went over just fine. The booklet sells for $2/book or you can pay $6.50 and get a rainbow patch and some stickers along with it. This is a deal. All the activities in the book are super but most of all Belle enjoyed coloring the rainbow patch coloring page and she also learned the colors in order of the rainbow - something I wouldn't have thought to teach my 4 year old. She loves that the rainbow "
is full of boy and girl colors all together"
- there you have it!
These patches are fun to wear and the design is very sleek and minimal. I like that they don't take up her entire face.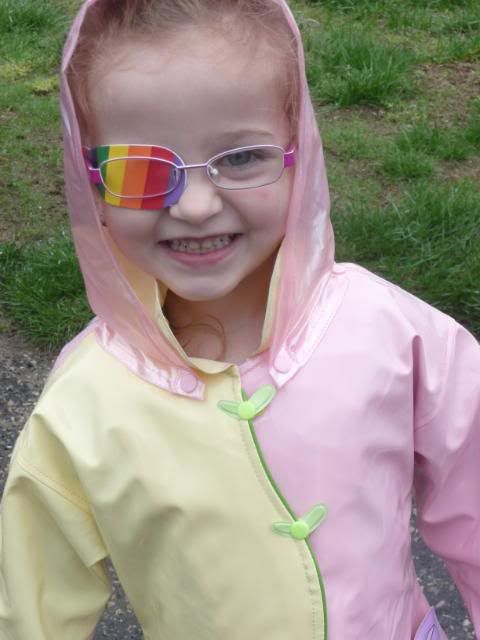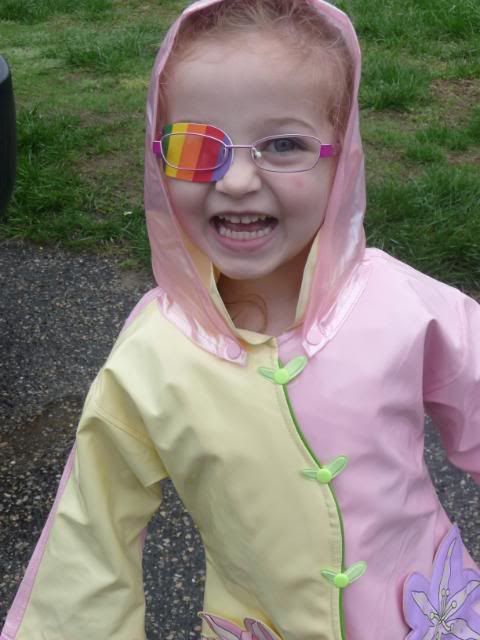 When we first tried out this patch it seemed that my daughter could peek but with a little bit of positioning I found a position that was fully occlusive and practically peek proof.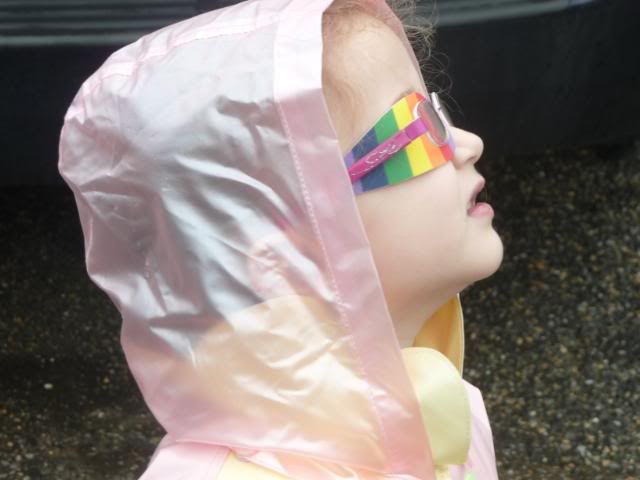 Because of its minimal design, care does need to be taken to ensure that the patch is properly positioned. A small slip of the patch on the temple will produce a "peekable gap". If your child's glasses slide down their nose they can also do a peek-over.
The only time Belle could peek with these was if her glasses slid down - which is something that she will purposely do in order to peek. If there is a way to peek, she'll do it. Thankfully most often she didn't have the urge to peek or ask me over and over to remove it because she liked wearing the patch.
To order these fun patches go to
Anissa's Fun patches
where there are instructions to order by phone, email, or mail. Alternatively you can
purchase via their ebay store
.
You can also read another mom/child review of Anissa's Fun Eye Patches over at Little Four Eyes here:
http://littlefoureyes.com/2009/05/01/week-2-anissa%e2%80%99s-fun-patches/