So, I posted how I've been stressing about the
eye patch issue and Disney
. I want her to wear the patch consistently as a previous commenter put it so well "every time off the patch is another day of patching down the line".
The answer is boutique eye patches!
We're simply going to have to "work it" with her outfits and make it fun for her.
Belle has a couple of these
Peek A Boo patches
that I bought off eBay, they are $6 a piece which is pretty cheap.
She already has one with princesses on it and another with Ariel The Little Mermaid.
I was looking online at Etsy and eBay tonight perusing the very cute (and often over-priced) Boutique and custom outfits. Belle wants a Sleeping Beauty gown and I'm kicking myself now that I didn't buy it when I got her gorgeous Cinderella one because that line of most-girly ball gowns is now replaced with one that I don't like. I want her to look gorgeous and not have it be scratchy or fall apart like the halloween costume ones or typical dress-up ones. She plays A LOT in her dress-up clothes and gives them a workout. I don't mind paying a bit more if it doesn't fall apart after one wearing - that is disappointing. Also, why are Alice in Wonderland dresses so expensive for such a simple dress?... But I digress.
I realize that Peek-a-Boo carries a patch that matches one of Belle's handmade Disney outfits
See this patch?
And this Mickey outfit she is wearing?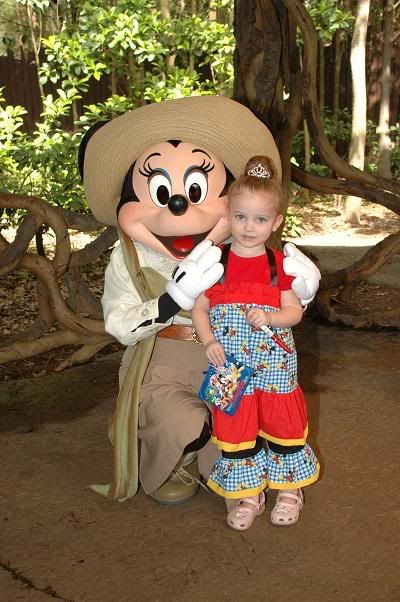 Belle has owned this outfit since she was 2 years old (and it still fits her!) Those pillowcase outfits really last forever because they go from a sundress and pants to a shirt & capris! FYI: if you are curious about the outfit this one is from
Little Mimi's
.