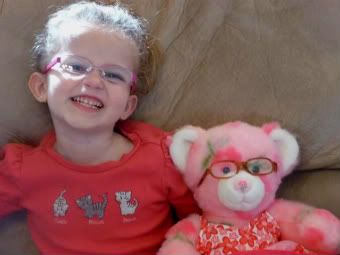 After my daughter
went to the eye doctor
for the first time and then to the optical shop to
pick
out glasses
, I decided to reward her with a trip to Build a Bear wear she made a
bear wearing glasses
. She then started asking me for
glasses or patches for her dolls
, which led me to find a handful of sources, including
Pumpkin Patch Eyeworks.
It was there that I read about
Carissa's successful journey with Amblyopia
and checked out the patches that her mother designed.
About the Patches:
Pumpkin Patch Eyeworks
sells 2 kinds of patches, a tie-on "pirate" style and an over the glasses style of patch. Since my daughter wears glasses, this is the style that we use. The style of the patch is similar in design to other patches we have, like
Patch Pals
, with a few key differences.
Pumpkin Patch Eyeworks patches are made from machine washable "every-day" type of fabrics like denim, faux suede and velveteen. Colors include denim, dark denim, white denim, tan faux suede and more. While some of the decorations may be more flamboyant or attention grabbers these patches are designed to be subtle. Custom orders are welcome.


Patches can be secured to glasses via 2 tiny slits on the patch - one for the nosepiece and the other for the earpiece (bow). This prevents the patch from slipping and helps prevent peeking. Pumpkin Patch Eyeworks patches are "ophthalmologist approved"


Many/Most of the patches are made with flippable designs so that they can be used on either eye should a child need to alternate between patching right/left. For optical centers wishing to keep an inventory of patches this is also a plus.


Patch sizes: Small child size (1 3/4"), standard size (2") and large adult (2 1/2"). Currently their webstore needs to be updated to reflect these sizes, but until then, a customer can go ahead and order online (which would normally be given a standard size-2") and then email to indicate they need a different size. Most are priced at $10 with a few extra speciallly adorned ones for $12/patch.


Coordinating patches can be made for 18" dolls and bears. These smaller patches are $7 - she even sells the glasses too ($5).


Shipping and handling is done on a sliding scale based on your order total. For orders up to $30 it is just $3.50 (w/in the US)

Our Experience:
Lisa at Pumpkin Patch Eyeworks was a pleasure to deal with and asked for the measurements of my daughter's glasses in order to assure we got the right size patch for her. Belle is in the "small size child" 1 and 3/4" patch which is slightly smaller than the Patch Pals. Even 1/4" makes a huge difference in that it doesn't cover up her face as much or get in the way.

Both our patches are flippable in that the design would work on either eye. In Belle's case, at this time she is only patching on the right side but should she need to start patching on the left we could use these same patches without the picture being upside down or backwards.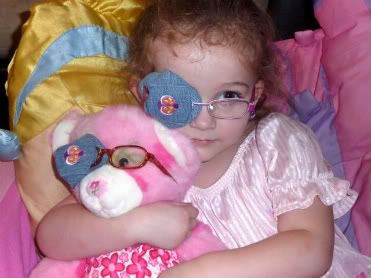 She also sent an extra patch that matched (in the same size) for her Build-A-Bear buddy. When I showed her that her bear, Pink, could wear a jeans patch too.. she loved the idea. It has served as an incentive to get her to patch more than a few times. Her bears glasses don't have a nosepiece so we only secure it using the slit on the side - it does slide a bit but I don't need to worry about the bear peeking. I've caught Belle doing "pretend play" that her bear is cheating.

One thing that is nice about the denim material is that it is really durable - it doesn't pill and it is kid-friendly. Belle is famous for eating spaghetti and needing to go in the bath afterwards - no matter how neat she tries to be it is just very tricky for her still. She tries to tell me that she needs her patch off to eat because she doesn't want to get it dirty but should she get this patch dirty it washes up! The edges are treated so that the denim doesn't fray. Some may find the denim a bit stiff, especially at first - but like "your favorite pair of jeans" it softens up over use.

Of the 2 patches we have from Pumpkin Patch Eyeworks, my daughter leans more toward the patch made of tan faux suede (it has a pretty purple flower embroidered on it) which isn't a stiff as the denim. Those who find the denim too stiff could opt for a faux suede of velveteen patch made with the same high quality. My daughter didn't find the denim too stiff at all but she prefers the softness of the faux suede. This patch also fits her well and she cannot peek with it when I have secured it to her glasses using both of the buttonholes.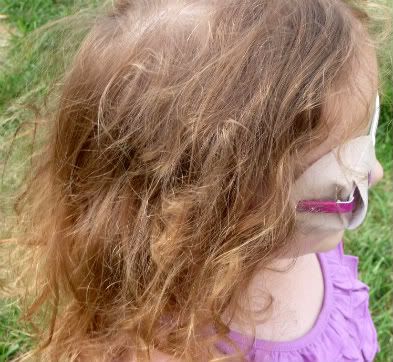 For more info and to order:
http://pumpkinpatcheyeworks.com/
or
http://lazyeyepatches.com/