The
first patches
that we tried with Belle were from the local drugstore, they were the
Nexcare Junior
size. The patches seemed just a touch too small for her and kept peeling loose while she wore them. (Yet they hurt when removed, go figure?) So, I upped her size to the
Nexcare Eye Patches
in the regular size. These had good coverage and didn't peel lose when she was wearing them. We decorated them with stickers and hung up used patches on a "
patch tree
". Belle called these her Band-Aid patches and she hates them. But, because she was constantly cheating when wearing her
Patch Pal
, the band-aid patches were still essential in her amblyopia journey. I insist on full occlusion and double patching really accomplished that.
I learned about Fresnel Prism patches on the
Prevent Blindness America forums
where many parents raved about these patches. I ran into a few glitches locating the patches online as the Fresnel Prism website seemed to redirect to another company (that fixed computers!). Finally, I found it:
MYI Occlusion Eye Patches
or
Fresnel-Prism
(a new site). I immediately liked the variety of adhesive patches aside from the drab tan that we'd previously used and thought Belle would like this too. I also really liked that these patches had a black inside, to insure no peeking through and to block out light.
From their site the patches have the following features:
PEEK-FREE, no tiny holes to fixate through.

HYPO-ALLERGENIC.

Adhesive is "aggressive" - It will stick when other patches won't - doctors approve of the sticking ability of these patches as children stay patched.

Black layer provides for total occlusion

Breathable

Thinner Occlusion layer allows the patch to be more comfortable to eye lashes.

Ink and Black Layer are non-toxic

Sizes Available:Junior: 2.50" x 2.11"(recommended for children up to 3 years of age.)Regular: 3.16" x 2.25"



MYI Fresnel Prism patches come in all sorts of colors and patterns - girly, boyish or solid colors. They even have plain white patches with a printed pattern that kids can color in. Prices are $15 for a package of 51 patches - you pick up to 3 patterns or colors per pack. Priority Mail shipping is just $6.75 for up to 6 packs of patches.
I wrote to Fresnel Prism and explained my predicament with the adhesive patches we'd previously tried and they were kind enough to send Belle a bunch of their patches to try out. I specifically mentioned that she would like them to be girly so the patches we received included (Pink, Princess Crowns, Hearts, Kitties & Puppies, Butterflies, Tropical Flowers to name a few). We tried the patch in the regular size since the junior is suggested for children up to 3 years of age.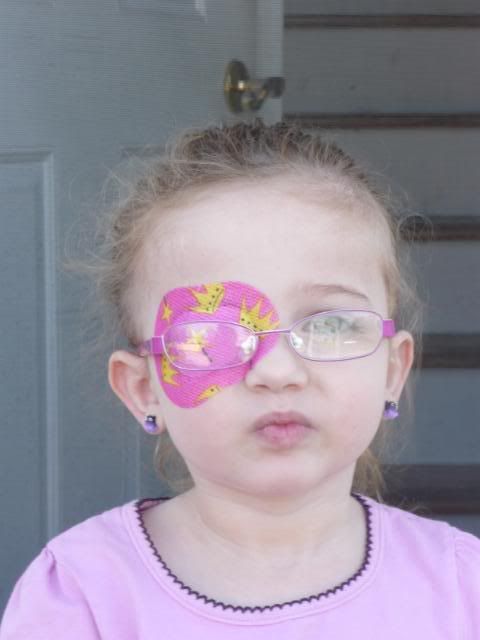 Of course the first patch she tried was the one with princess crowns. She even decided she would wear it to school without another patch covering it up. We put it on and got ready to head to school. When I picked her up 2 hours later, she was switched into a different patch because they had Phys-Ed. She told me that the patch hurt when her teacher pulled it off. Later that night when she took her glasses off to retire for the night, I noticed that the nosepiece was all bright pink instead of the clear it previously was. I cleaned it with an alcohol prep pad and most of the color came off. I actually didn't put 2 and 2 together and figure out the pink was from her patch (duh!) -- I thought it was from a school art project or that maybe she got into make-up (wouldn't be the first time!)

It wasn't until we used the all pink MYI patch with her
kitty-cat Patch Pal
over the top, that I realized where the pink rub off was coming from. The color from these patches, while it may be non-toxic is not "set". It rubs off onto anything that comes in contact with it. All around the rims of my daughter's white patch pal (on the inside) are now stained hot pink. Her right nose-pad is also very pinkish. Alcohol wouldn't clean it off, nor would soap and water. This is a minor annoyance, but an annoyance none the less. If you are wearing these patches without glasses over them, or your glasses don't have nosepads then this probably wouldn't be an issue for you.
These patches are absolutely peek-proof, cover the entire eye and have a black inside padding that I liked. Belle likes the look of these better than the "band-aid" patches and wanted to wear them under her other "over the glasses" patches. She knows my rule "No peeking" - even if that means a double patch.
But, she started really giving me 'lip' about how these hurt when they were removed. I think, actually these patches stick on too good! I realized this one day when we were headed out in the mama-mobile, as we often are "on the go". We were zipping off to an event with her brother (
at the movie theatre
) and so she got a "
get out of patch free
" card. She pitched a giant fit as I tried to take the patch off of her.
Pictures of Patch Removal: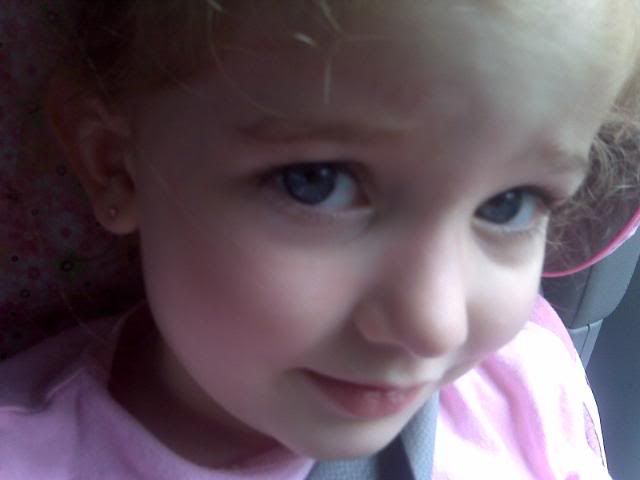 She's so dramatic. But, I know when she's faking and when she is really uncomfortable. Unfortunately, seeing the redness afterwards - I know she's telling me the truth. These patches stick on so good that they are hard to pull off! In Belle's case, her skin is so very sensitive and easily irritated which makes these less than optimal for her. However, if you have a child who tries to pull off their patches, or you have problems with patches peeling off (due to sweat, etc) then you should consider these as they have really good stick-ability. Unfortunately, they are too sticky for my little princess. Also, be careful of the color rubbing off with the brighter colored patches.
Please note:
Fresnel Prism addresses the topic of patch irritation on their website here with
advice from parents, teachers and doctors.
Patching experiences vary greatly - The "best" patch for one child may not work on another one. While these MYI patches didn't work out so great for Belle, I wanted to share with you a link to a review of these patches by a mom of a 2 1/2 year old where they worked out pretty well. Check out
Amomofelly's review at Little Four Eyes
.