Apple Patty Patches is a delightful story about a little girl who loves apples but can't see them well with both of

her

eyes. Geared towards 3-8 year olds this book will help you explain to your child just what is happening to his or her eyes. Apple Patty succeeds in her occlusion therapy and your child will too.
Author: Danielle D. Crull, ABOM. Miss Danielle is an
American Board of Opticianry Master-Certified Opticia

n
specializing in children.
I purchased
Apple Patty Patches
from
Framehuggers
. You can also order it directly on the
Apple Patty
website for $16.95 with $2 shipping and get an autographed copy.
View some sample pages:
http://applepatty.com/samples/index.html
Apple Patty is a little girl who loves Apples. Apple Patty is having some problems seeing - she has Amblyopia, or "apple-y-opia" as she calls it. She loves her Apple glasses, but doesn't like to wear her eye-patches. Her mother comes up with an activity that she can do to keep her busy during patching time, to run out the time on the clock during patch time. In the end, Apple Patty meets with success and overcomes her Amblyopia.
My daughter likes the story of Apple Patty and it has helped her learn about Amblyopia. When we were headed to the eye doctor this week she told me that she hoped that the doctor would tell her that "he couldn't tell her good eye from her not-so-good eye". While that didn't happen this time, she understood when the doctor said that her eye is doing better.
The author, Miss Danielle, includes a few pages of information about Amblyopia and advice for parents at the end of this book. I found this information invaluable to me. In particular, the tip about making the clock be the enemy on wearing the patch - not you. When my daughter fights me about wearing her patch it has been extremely helpful to point to the clock and say "until 5pm" or whatever time we need to end that day. This way the clock is the bad guy, not me. It makes it easier on me also.
I recommend this book for kids with Amblyopia and their parents. It is thoughtfully written, the illustrations are cute, and it is truthful. I appreciate that there is no comparison to "being a pirate". My daughter isn't yet reading independently but she is starting to learn to read - one complaint she often tells me is that "the letters are so tiny". This book has a very large and bold print, which is friendly to children with visual difficulties.
You can purchase Apple Patty Patches directly or via a few patch sellers like Framehuggers and MYI occlusion patches. I wish it were more widely available, like Amazon.com. Also, the price at close to $20 is a bit high for a children's book - but for the high quality (library bound) I feel it is worth it. I would like to see a copy of this book in the children's area or waiting rooms at the Eye Doctor - a copy absolutely belongs there.
Watch a video
of my daughter "reading" Apple Patty Patches:
http://www.youtube.com/watch?v=C75BfKvp_OY
Apple Patty Pictures: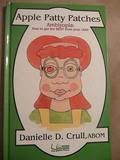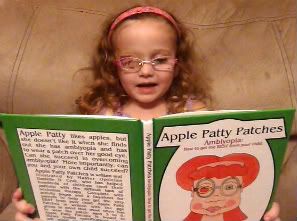 For more info
:
www.applepatty.com