My daughter has tried out quite a few eye patches! Many of the eye patches for eyeglasses are very similar to each other. Such is the case with Eye Mateys, that is similar to
Patch Pals
- with a few differences.
Eye Mateys
are felt patches that go over eyeglasses. Like the Patch Pals they have a slit for you to slip the nosepiece of your glasses through it, but no slit for the armpiece of your glasses. You could cut your own slit in the side of the patch for further fitting. The patches are priced from $7-12 per patch depending on if you want a solid color, applique, or custom design. I just checked their site and all the prices are marked down by 20percent off, so this would be a good time to stock up! Shipping is as low as $1.79.
The major difference between Eye Mateys and Patch Pals is the following:
Eye Mateys have a black inner lining to help block the light going through the patch. This is a nice addition and creates better occlusion - especially for the light/bright colored patches that kids like.


Eye Mateys come in an "infant/toddler" size that is suggested for kids 0-2 years old but can be used for children even from 3-5 years who have a smaller face. It is 20% smaller than the regular patch size. I am a big fan of this smaller size since I don't like how a lot of patches take up half of my daughter's adorable face!

The designs on the Eye Mateys appear to be iron-on patches vs embroidered on designs - but this may just be the case with the patterns that I received.

These are the two patches we have from Eye Matey. The smiley daisy patch is in the Toddler size, with the rainbow heart patch being in the "standard size".
To show you the flip side of the patches and the black/grey inner lining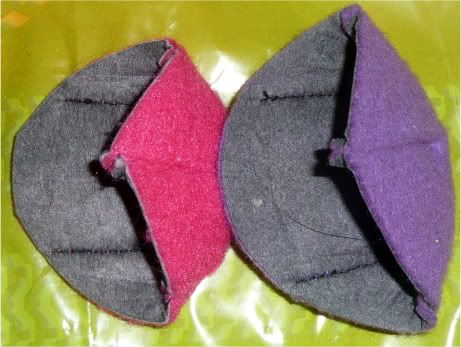 I do find with the standard patch, like the Patch Pals - they take up quite a bit of her face. Even though she is 4 years old, the "toddler" patch fits her much better. To give you an idea of the size, the lenses of her glasses are about an inch high and 45mm wide.
If you have a little child, Eye Matey's toddler patches are "just right" in size!Photos of the Eye Matey patch
- Toddler Size!