My daughter loves to dance. She's just completed her second year of dance and the big recital. She loves every minute of dancing and performing, as you can see from the picture - You'll also notice something - She isn't wearing her glasses.
Getting my daughter to wear her glasses for dance class has proved very challenging. She tells me that ballerinas don't wear glasses and that she doesn't want to wear them for dance class. She also tells me she is afraid they will break, fall off, or she could lose them. I offered the alternative of her wearing her spare glasses, and she gives me the same line. She simply will not wear them to dance class. I know she would see better and probably dance better if she had them on, but I'm losing the battle. At this weekends recital several of the older girls who danced wore glasses. When the DVD comes, I will watch this with her and point it out that ballerinas and tap dancers can indeed wear glasses -- I hope this helps. You might be thinking, just strap the glasses onto her head. Again, I lose - her argument is that the straps are for boys. Her brother wears a glasses strap every day and she vehemently refuses.
When I learned about the
inconSPECuous
eyeglass retainer, I believed that I may just have found the answer. Unlike the glasses straps that my son wears that are very noticeable, this one is clear and barely visible.
InconSPECuous Features:
Prevents repeated removal of spectacles

No more slipping down the nose

No more falling off during activity..... Prevents damage or loss of spectacles

Easy to attach and remove glasses with strong magnetic clasp
InconSPECUOUS is a product designed and sold out of Australia. You can order from their website at
http://www.inconspecuous.com.au/
and they are priced at $10.95 (AUD) per retainer with $2 shipping. Converted to US currency that is roughly $10.50 including the shipping. Payment can be completed via a secure paypal transaction.
The product is actually quite simple. It consists of fishing line, small magnets, and plastic tubing. I didn't realize at first that this is a fairly permanent solution to hold on your glasses. Initial prep takes a few minutes to attach the tubing, size the line, tie it off at the right size, trim the excess, and then using a hair dryer to heat shrink the tubing onto the earpieces. Because of this, I put this on my daughter's spare glasses that I'm trying to work into her dance class routine.
Here's a photo of the back of my daughter's head wearing the inconSPECuous retainer. I added an arrow to show it, you can barely see the magnetic clasp. It does a good job of holding her glasses on her and is barely noticable.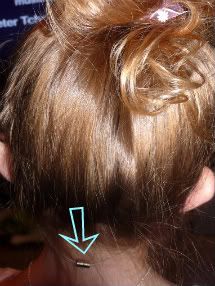 Belle doesn't like, however, that she is unable to take her glasses off by herself with it in place - the magnet is too strong. If you have a child who takes their glasses off a lot, this may be a selling point. My daughter is generally very good about keeping her glasses on so this frustrates her a bit. I worry that she'll try to take her glasses off while this is on and end up with broken glasses - I'm hopeful the magnet would give before that happened.

I also have a bit of a concern about a magnet being near her head and brain for any length of time. I believe for the short time that she is in dance class this is probably OK and no different than a jewelry clasp that uses a magnet. Still, for a family with neurological issues this makes me nervous.

Ballerinas and princesses can and do wear glasses.
InconSPECuous helps!
Here's Belle in her glasses with the inconSPECuous retainer dancing along to her favorite
Prima Princessa Presents Swan Lake DVD
.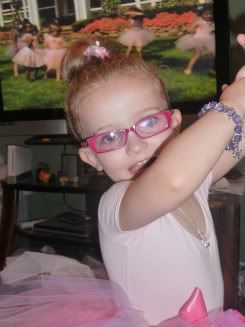 ***************UPDATE*******