Do you use a glasses strap? What strap works best for you? I'd love to hear your experience and see pictures too, if you have them!
Please leave a comment here or email me at
amblyopiakids@gmail.com
Our Experience with Head-Straps for eyeglasses:
Clear Straps:
inconspecuous
So, I shared my experience with a discreet "clear" eyeglass retainer,
InconSPECuous
, that I have tried for my daughter as she needs something to keep her glasses on during dance class.
The product is essentially fishing wire and tiny magnets. At this time it is no longer being sold as InconSPECuous but I believe is now sold as
Invisiroos
.
speccles
Update: There is new clear eyeglass strap on the market called
Speccles
specifically made for children's glasses and made with clear tubing.
Functional Straps for Active children
My 8 year old son, however, is a completely different story. He has worn glasses for a year now and we have lost many a pair. He takes them off and just puts them down anyplace. So much so, that we have even tried out an
eyeglass locator
in our house. He is an active 8 year old boy. And, he has autism.
For him - an eyeglass retainer aka "the geek strap" is a must.
But, because he has autism that means he also has a ton of sensory issues. Kids are fussy about things that are too tight or restricting - for him these types of 'annoyances' can become major. Trying to find a strap that worked well at holding his glasses on, that is also comfortable to him - has proved almost as difficult as dealing with glasses, in itself.
1) Our "Old Standby" Strap that we have used pretty much since the beginning of our glasses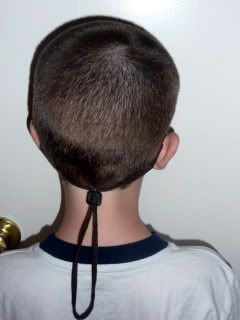 adventure is one of the
Chums
adjustable straps. They make these in a variety of colors and made of cotton, braided cord, rope, etc. The cotton works the best for us in terms of comfort but it does fade, get stretched out, and worn easily.
This retainer slides over the ends of your glasses like a sock and uses a bead of plastic slider to adjust the tension on the back. It can be worn loose or tight, or anywhere in between. One thing is that if the bead gets pulled off completely then you will either have a chore at rethreading it, or have to go buy a new strap. In a pinch we have tied a knot in the back, instead of the bead. I don't really care for how this looks in the back, like a "tail" that hangs down but it gets the job done on holding Alex's glasses on his head. Note - the strap he is wearing in the picture is not the 'kids' size. The kids size one that they sell locally in stores is the rope style, not cotton which we prefer.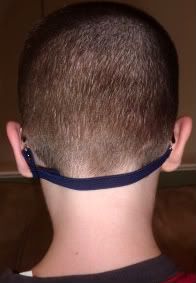 2) We recently tried out a Hilco strap - this brand of straps is sold through opticians, optical departments, etc. The strap was made of elastic and was adjustable (similar to a garment fastener). It attached to my son's glasses via small plastic loops that were attached to the elastic by a metal hinge. Alex didn't care for the elastic when I adjusted it snug and opted for a looser fit that held his glasses on, but didn't squeeze his head. I noticed after just a short time that the metal loops got discolored from sweat/moisture which was a turn off to me. Also, the hinges would flip causing the band to twist a bit. We weren't big fans of this strap.
3) We here at Amblyopia Kids are big fans of
Framehuggers patches
. These patches are custom made, fully occlusive and they work! The owner of Framehuggers, Camille Workman, is super to deal with and has been a godsend to me in helping us along our patching journey. As it turns out - she is working on a solution for a headstrap for glasses to see if she should market her own or add an existing strap into her inventory.
"Are you frustrated with the battle of keeping your child's glasses from slipping? You take your child to get the frame adjusted to realize an hour later that their ears hurt but if loosened any … your back to the slide. There may be a solution to help. Camille Workman from Framehuggers, wants to hear from you…

please call 208-860-7237 to request a FREE new eye glasses retainer (head strap) that may resolve your concern

. She has many years working as a certified ophthalmic assistant in pediatric ophthalmology and as an optician as well. She had already helped thousands of patients with their patching needs (see www.framehuggers.com) but she is now looking to get honest feedback from parents interest in trying her latest idea; whether you child patches or not. She believes strongly in testing products and altering it when needed before selling them to her customers. She will be giving away eyeglass retainers to the first 24 parents who contact her. You can also reach her by email at camille@framehuggers.com Thank you!"
So, I talked to Camille and she sent me out a really nice navy blue headstrap to try for Alex. It is made of the same soft fleece that the Framehuggers patches are made of. I was a little bit concerned that this would be hot (especially with a sweaty boy, baseball games, etc) but the fleece has proven to be quite absorbant and also washes easily (I handwashed it in the sink and let air dry). Now, my son has a pair of glasses that have really funky earpieces that don't wrap around the ear at all - they grip the sides of his head. This strap didn't work so well on those glasses because the angle was all wrong. His other pair of glasses has a more standard earpiece that the strap holds onto well and only needs minor positioning. Like I mention before, this headstrap is a work in progress and Camille is open to trying out different fastening methods that would handle these different "angles" of the earpiece better.
You can read about this head strap in use by a baby wearing glasses over at
Carrots Make you Blind?
This strap is comfortable, holds my son's glasses on his head where they should be - and prevents them from sliding down his nose too. The strap has velcro on the back and can be adjusted so that it is snug, or loosely hugging the head. My son likes this strap quite a bit and given the choice of this one vs. the elastic strap this is his pick. I believe it is because the soft fleece is comfortable, it doesn't squeeze, and it also doesn't have a tail that hangs down to "tickle" him. Note: when you put the strap on - you make sure that the prickly velcro goes away from the head, and the soft side faces in.
This strap isn't currently sold, but if you are interested in trying out a similar strap contact Camille at Framehuggers via the instructions above - you won't regret it!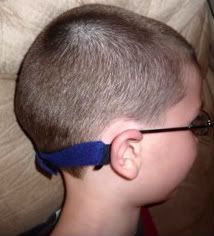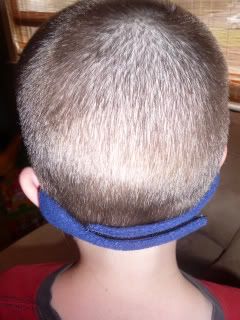 Update:
Camille from Framehuggers has been working on improving the strap so that it is less bulky and has an improved fit.
The new strap is definitely more streamlined but equally as secure and comfy!
Here's a few photos of it:





Let me know what eyeglass retainer you use, love, hate - in comments!