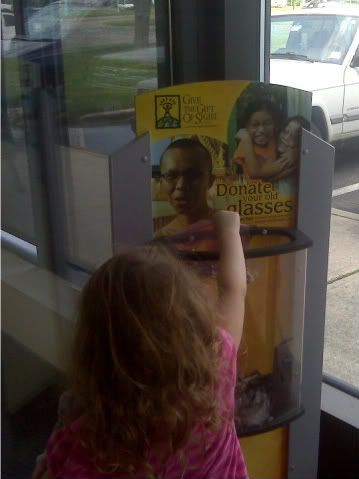 We had a shoebox full of Alex's broken glasses. Two out of the 4 pair had broken frames. The other 2 pair had pretty minor damage. Since his prescription changed, I didn't see the point of holding onto them and getting them repaired.
Today we donated them.
Give the Gift of Sight
has a receptacle set up outside of our vision center where they collect old glasses.
how you can help Give the Gift of Sight
:
Drop off your old eyeglasses or sunglasses at any LensCrafters, Pearle Vision, Sears Optical, Target Optical or Sunglass Hut store, or Lions club to help someone in a developing country experience a brighter future. We will clean, repair and classify your glasses by prescription, then personally deliver them on Give the Gift of Sight international optical missions.