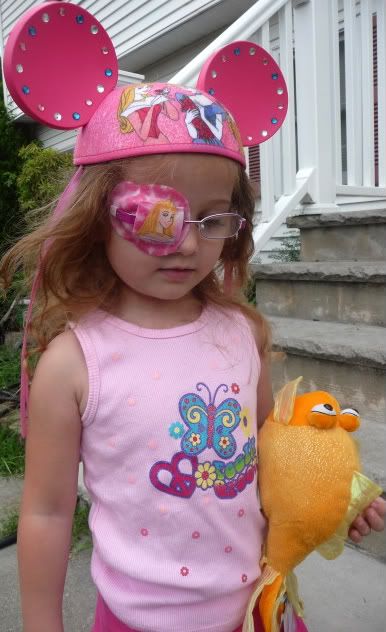 There are so many places to buy patches for your kids - including eBay. I've previously reviewed the
Peek-a-Boo patches
which are sold on eBay which is how I learned about
Munchkins Eye Patch
es
.
About Munchkins patches:
Childrens Kids Eye Patches

Non-Adhesive

Felt or Fleece, Fully Lined


R

eusable and Hand-Washable

Eye Patches for Children who have to Patch because of Amblyopia Lazy Eye Strabismus Surgery and wear Glasses.


Also, Pirate Style Patches for use without Glasses
The patches are made in a few sizes (L, M, M-S, and small) and directions for measuring are included at the eBay store. I simply sent the measurement of my daughter's eyeglasses and let the owner know which eye it was for.
One thing that appealed to me was that unlike the patches that use a "slit" to accomodate the earpiece of the glasses these have an elastic loop on the outside of the patch. This seems both more comfortable and more occlusive when compared to the other styles. Also the patch has a slightly different shape than most of the others (ie Patch Pals) that is a little less bulky. The sewing on these is really nice. For example -the buttonhole that you slip the nosepiece through is reinforced and not just a cut out slit. You can tell that time and care has gone into designing and then sewing them and I appreciate that!
Munchkins patches have a diverse color selection and can also have designs added. My daughter has a pink tie-dye looking fleece patch with Sleeping beauty on it. This is not a licensed disney product but it is made with licensed disney fabric for the design.
Prices range from 8.99-12.99/per patch with $2 shipping
To purchase visit the
Munchkins Eye patch eBay store
Pictures of my princess in her special princess patch from Munchkins. As you can see, there is no cheating and someone is looking forward
to our next tri
p to Disney
. This patch is comfortable, fun, and fully occlusive. Be sure to order the correct size for your child's glasses. I believe the one below is a M-Sm size.