There are quite a few 3D attractions and shows at Disney.
This obviously presents a challenge for kids and persons with Amblyopia who lack binocular vision.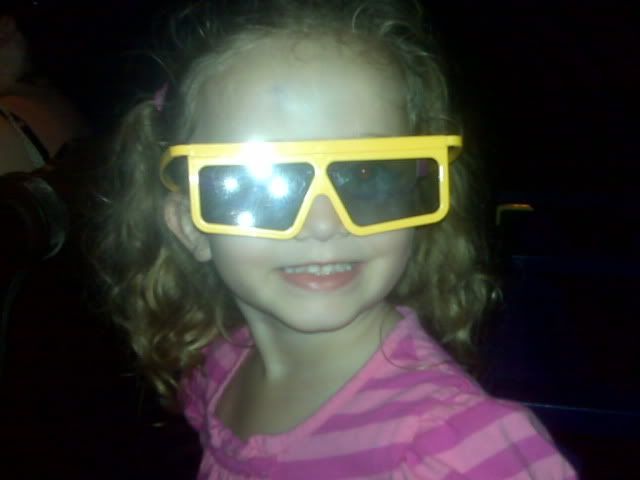 Belle has gone to a few 3D movies before and made comments to the effect that she is able to see some of the 3D effects (I have also watched her try to reach out and touch 3d images!). But watching her lack of reaction during many 3D portions, I know she doesn't seem to have the same 3D vision like I do.
With her glasses off, she doesn't seem to see the 3D effects at all, but with them on and the 3D special glasses over the top of her glasses she does seem to get the 3D gist of things. Disney's 3D glasses are made so that they easily go over your regular glasses and fit both adults and children.
A few of the 3D attractions that Belle tried were the philharmagic show, toy story mania, and muppetvision. Toy Story Mania is a ride where you wear 3D glasses and play arcade style games. This ride is very visually challenging and fast moving and she enjoyed it but struggled with the gameplay portion of the ride (some of this being that she is only 4!) . The 3D show that she enjoyed the most was the Philharmagic movie. Personally, I think that the muppetvision 3D show needs to be updated as it is the same show that I saw 12 years ago on my honeymoon and even with my relatively good vision the 3D wasn't all that great and gave me a bit of a headache.