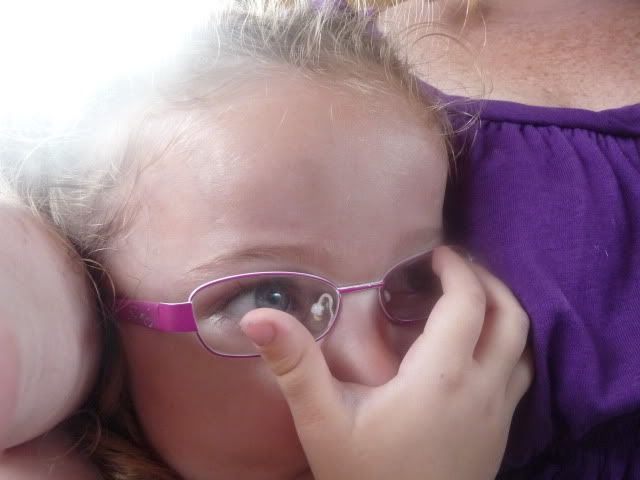 A lot of the rides and queues at Disney are dark, and my daughter is deathly afraid of the dark so we made use of our GAC to bypass these queues for rides she did want to do - like the Peter Pan ride. In February when we were at Disney she screamed for this entire ride (before she got glasses and her Amblyopia diagnosis) so I wondered how it would go. Well, this time she got really nervous and started to "freak out" that she would lose her glasses. I told her to hold them on her face, which then started a trend for the rest of the trip. On any ride where the motion was faster than a turtle's pace or the slightest bit bumpy (like the animal safari or boat rides) she held her glasses on her face by placing a finger in front of each lens and around her nose. She really does not want to lose those glasses!
Up until this point, my daughter has been gung-ho that she does not want to wear an eyeglass retainer of any kind. But, the fear of losing her glasses while on amusement park rides may change things for her the next time around. I'd suggest bringing and
using an eyeglass retaine
r if you go to Walt Disney world. I was quite thankful my son was wearing one!