On our search to find a 'perfect' patch for my daughter I noticed a trend - a lot of moms of kids with Amblyopia are quite crafty and many of the eye patch designs were born out of necessity. Well, I am not crafty - so I am thankful and very appreciative of these moms who have shared their eye patch designs and creations with me for Belle to try out and share here at the Amblyopia Kids blog.
Such is the case with these
"No-Peek" Patches
designed by
Jocelyn's
mom, Tina. She sells these patches
at the Etsy store 2 Daughters and a Mom
for just $3 per 2 pack of patches. They come in a wide variety of colors and decorations ranging from gems, glitter, stickers, and fabric. We've had these for a few months now to work into our rotation of patches - as you can see - we have light and dark pink & purple.
The patch is spoon shaped and made of a craft foam, so they are reusable and similar to
these no-sew eye patches
. For those who don't have the materials, time, or craftiness -these No-Peek patches are an excellent option. The foam patch reminds me a bit of
Anissa's Fun Patches
with slightly less side coverage. When worn properly the "no-peek" patch is a very low profile, lightweight patch. The foam piece has a punched hole to accomodate the earpiece of your child's glasses and then a small slit that goes over the nosepiece.
NEW
** She does have a style that can be worn with glasses that do not have a nosepiece ***
I just received this new style and will report back soon how they work out with Belle's spare glasses.
Our No-Peek experience:
As with any patch, wearing it properly to prevent peeking and have total occlusion is essential. When the No-Peek patch is right up against Belle's face she isn't able to peek with it. She tries, but mostly fails to defeat it. One word of caution - the lighter colored patches definitely get dirty easier than the darker ones - so though they are reusable, over time they will need replacing (not a big deal since they are very inexpensive). We did have one patch that got torn at the slit for the nosepiece when my daughter tried to take it off by herself. I had already thrown it away but then Tina told me that I probably could have trimmed it and gotten a bit more use out of it. Ah well - we live and learn!
Pictures of the No-Peek Patch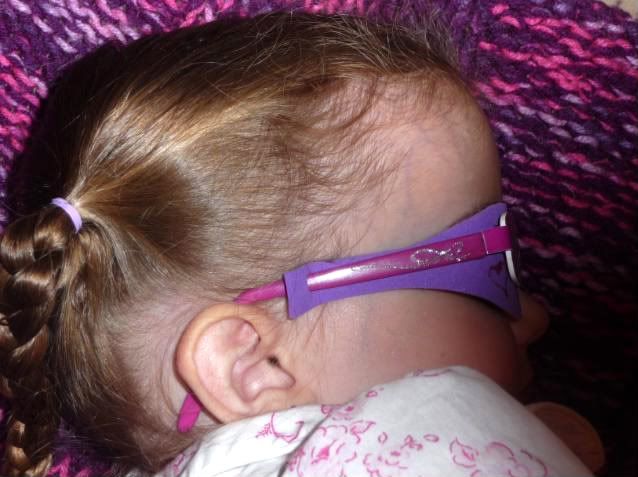 Purchase "No-Peek" Patches at the Etsy store 2 Daughters and a Mom