In late October my kids both had their school pictures taken (different days, same week). They attend different schools with my son is in the public schools and my daughter goes to a private preschool here locally.
Like most school pictures - my son's are usually hit or miss. We have gotten some good ones and some bad ones.
This years are not so great. One issue that I have with his school pictures (aside from the fact that he looks tired/sad/sick?) is that they have a lot of shadows all over the place and a big distracting flash on his eye glasses. I went back and looked at the last 2 years where he also wore glasses and none of them had this (or if it did, they removed it). The school district switched from Lifetouch to Lors photography and I wish they hadn't. I was going to do the re-takes but that week my son had a bad chapped lip which wasn't something that I wanted to commemorate. So, I am stuck with these. They wouldn't take them back for a refund because there was a "photgraph error" according to them, a flashed out eye is OK.

So, you may remember
the photo dilemma
daughter had told me that they took her picture with her glasses off. This angered me because as I understood it the photographers are just supposed to take the picture and not "mess" with the way the child looks. She later told me that they took her picture 2 times - one with them off and one with them on. So, it was a big mystery in how her pictures would come out.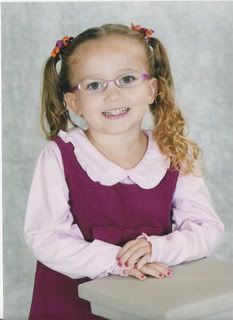 Well, I am happy to report that her glasses are indeed on her face. I am very happy that, unlike my son's picture, there is no glare or reflection of the flash on her glasses. Her pictures are adorable, cute and everything you would expect from a 4 year old.
But, something seemed a bit funny with them when I looked at the larger size ones and not the wallet....
I think they photoshopped her glasses on. To me the placement seems way up her nose almost into her eyes (now - this also could be because this was the day she got her
new glasses
and so I could be more used to the new frames) But they don't "sit right" with me. I also notice something 'funny' with her right nostril.
Maybe I'm just being picky...

What do you think?