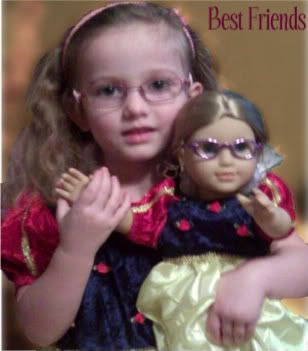 Belle received an American Girl doll for Christmas from her Grandma. Though there is an AG Doll who wears glasses (Molly), Belle wanted a doll with hair and eyes that looked like her. She picked out Elizabeth, one of the historical dolls. But, she didn't have glasses.
The good news is that American Girl sells glasses as an accessory for any of the dolls for only $8. But, when it came time for ordering for Christmas very few of the glasses styles were in stock. Grandma picked up the basic round metal framed ones, but we knew she really would prefer the pretty purple (lilac) ones (similar to her own pinkish/purple frames). Of course, the lilac eyeglasses were backordered til late January 2010. Thankfully, with help from one of Santa's elves over at
Little Four Eyes blog
a pair of the purple AG eyeglasses were procured from one of the AG satellite stores.
Thank you Ann Z. you helped make magic this Christmas!
My little girl has made a new best friend.
Related Post:
Glasses and Patches for her Dolls
PS. The dress she is wearing is Little Adventures Deluxe Snow White Dress
with the matching Snow White Doll Dress