We are huge fans of the
Framehuggers
eye patch here at
Amblyopia

Kids
. My daughter loves her
Framehuggers
patches and doesn't complain to me about wearing them. They are comfortable, completely occlusive and fashion forward! Isabelle's most favorite
Framehuggers
patch is a hot pink leopard pattern fleece with a Minnie Mouse applique on it. She is generally very good about wearing her patch and getting in her 4 hours a day (after school) but some days are tougher than others.
Camille at
Framehuggers
offers a really fun patching compliance program for kids. The
Patching Pal program
helps kids meet their patching goals. Your child gets a sweet jointed teddy bear in a fleece outfit to match their patch. This is available for boys or girls - as you can see from the photo - Belle's is wearing a hot pink leopard cheerleader style outfit.
Also included is
a wipe-off laminated reward chart
to track patching hours and a handout with Parent tips.
The Patching Pal program works! My daughter has been coming home from her preschool and ASKING me to patch with her bear. To quote my daughter about her patching pal.
"I Love it!"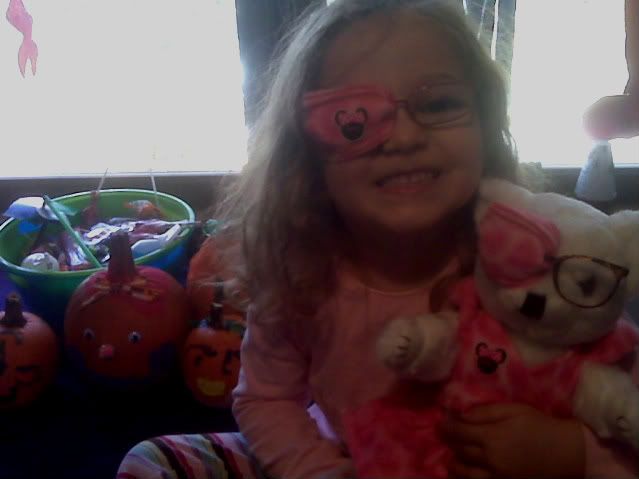 For more info visit the
Framehuggers
website at
www.framehuggers.com
Related Posts:
Amblyopia

Kids are

Framehuggers

Fans
- Review of the
Framehuggers
patch
Framehuggers

Fun
Keeping Kids Glasses On - The Dish on Eyeglass Retainers
Headhuggers

: New

Framehuggers

Eyeglass Retainer for Kids - Photos