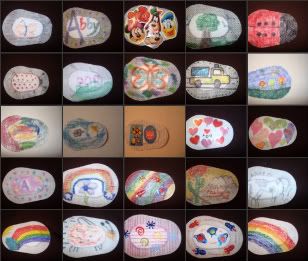 This idea was shared by one of our readers here at Amblyopia Kids. I
love
this idea - what a fun way to help kids get over the 'patching hurdle'. Send out patches with a SASE to your friends and have them decorate them for your child. Not only does it help create awareness and understanding for the friend/child who is making the patch - your child gets a one of a kind patch to wear that was created with love "just for you". And, when done - you have a keepsake!
Wow!










The
Eye Patch Project
From Lisa G.
When our daughter Abby was diagnosed with severe Amblyopia (20/400) and Strabismus, we were heartbroken. Then, when the doctor told us she would have to wear a patch for 8 hours a day, we knew how hard it would be for her. Our beautiful 4-year-old girl was suddenly telling us she wasn't pretty, that she couldn't look beautiful with a patch on. It broke my heart!





So, I had an idea. I ordered some plain white patches from Ortopad.com. I printed out my Christmas card list, and wrote up a letter explaining Abby's condition, how to decorate the patches, and what her feelings were. We sent blank patches out to all our friends and family all over the country. I included a self-addressed, stamped envelope in every letter so that it would be easy for people to send the patches back to us.



We have received some of the most amazing patches I have ever seen. My husband says they are "folk art," and I could not agree more. These photos represent just a sampling of the many we have received.



I purchased a post-bound photo album/scrapbook from a Hallmark store, along with some pocket pages that fit 4x6 photos. I also bought some 4x6 index cards that would fit in the pockets. When Abby is done wearing each patch, it gets put on an index card, where I write down who made the patch and sent it to her. In this book, we are also keeping the letters people write and include when they send us the patches. There is so much love and encouragement in there, it has made all the difference to her.





Patches are no longer something that she fears or hates, because each one is custom-made just for her with love and understanding. She actually enjoys putting each one on in the morning, going through her box to choose which one she feels like wearing.
Thank you Lisa for sharing your creative idea. I agree, the patches really are ART and I am glad to hear that your daughter is doing better now with her daily patching.