I got new
eyeglasses
a few weeks ago from
GlassesUSA
and am retiring my trendy Versace frames in lieu of a pair that is priced well under $100! Aside from a very slight difference in the frame style - you would never know the difference (see pics below). I've shared before on this blog how I've ordered prescription sunglasses and spare glasses for both my children online. Well, my Versace glasses were starting to see better days - some of the rhinestones were falling out of the front (completely unacceptable!) . I was given the chance to test out a pair of glasses from GlassesUSA and am totally SOLD! Ordering glasses online can save you hundreds of dollars.
When ordering your
prescription glasses
online you'll need your full prescription including the Pupil Distance (PD) measurement. It will also help to have the measurements from a pair of frames that fit you well so you pick out a new frame with similar sizing. I went with a style that was quite similar to my current frames because I'm a boring person and not real daring but at the price point of under $100 (including the prescription lenses), you can definitely afford to be daring and even buy a few pair. The downside to buying online is not being able to try before you buy and also fitting. However, many of the Brick & Mortar optical shops will do adjustments of glasses even if you didn't buy them there for just a small fee. I'll have mine adjusted when I go in next time with my daughter. Think about this way, even with the price of having them adjusted you can still save hundreds of dollars! Prices on the GlassesUSA site are from $18/pair with free shipping on orders over $99.
I was very impressed with the selection of
eyeglass frames
at GlassesUSA including mens, women's and Unisex eyewear. The only thing I wish they would add is a children's line! They make their glasses in both New Jersey and Israel and the quality of the frames I received is impeccable. My glasses came very quickly and in a really sturdy hardshell case. Having ordered from Zenni in the past (and waiting a month, inconsistent quality, some frames better than others, thin plastic case) -- GlassesUSA is leaps and bounds better! I was equally impressed to learn that they offer a 100% satisfaction on their eyeglasses and participate in a recycling program with any returned frames and donate them to charities that help provide glasses to those in need.
Can you tell which pair of glasses cost $400 and which pair is priced at $57?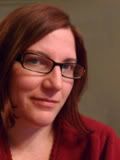 Couldn't tell, could you?
The first pair is the
Kim Black
style from
Glasses USA
under $100!.
The second pair is Versace from Lenscrafters $400+




The biggest appreciable difference that I can conclude between ordering online vs at the local optical shop is the money that would be leftover in my pocket as a savings when ordering online.
Savings for Amblyopia Kids Readers:
COUPON CODE for 5% off of your order at
GlassesUSA.com
use Mommy5 - NO EXPIRATION
Related Links:
Tips for ordering glasses online
Review of GlassesUSA.com prescription eyeglasses
Zenni Optical - the place for inexpensive Kids spare eyeglasses!