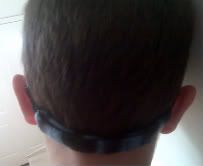 Keeping Kids Eyeglasses On - Eyeglass Retainers
My son has autism and he loses and misplaces his glasses frequently. He also is a 9 year old boy who is very active. In the first year he had glasses we had to replace them more times than I could count because they were either lost or broken. While wearing a glasses strap or retainer isn't exactly fashionable, I knew that it was the practical and for him - a necessity. We tried many different styles of straps but many were not comfortable. Some styles were quite large and not designed with a child in mind. Most were just plain ugly. We tried straps that were clear (inconSPECuous) and also straps that were made to be waterproof or floatable. I found that some straps broke quickly and others got funky quickly from being on the back of a sweaty boy's head.
Since my daughter has
Amblyopia
she has to wear an eye patch daily. Our favorite eye patch is made by
Framehuggers
, Camille Workman. Camille has come up with an innovative headstrap designed for children's glasses (but it certainly could be used for adults also) to hold their glasses on their faces where they belong. The strap is made with soft non-fraying fleece and is comfortably. It is adjustable and velcros around the back of the head. My son wears his strap low across the back of his head, near the hairline. As I mentioned, my son has Autism - he has a lot of sensory issues and can only wear soft fabrics without tags or anything that might be irritating him. Even the seams in socks can bother him, so it is important that a glasses strap not bother him or he will remove the glasses promptly (and lose them).
The Headhuggers strap can be made in a color of your choice, ours is a blue-grey camo pattern that looks age appropriate, "cool" and definitely hip. If you are having a hard time keeping your child's glasses on their head where they belong, or struggling with glasses that slide down your child's face - Headhuggers to the rescue.

For more info visit the Framehuggers website

Related Links:
The dish on eyeglass retainers
Introducing Headhuggers made by Framehuggers